A Retreat for the Order of Interbeing
December 8-11 2022 at MorningSun in Alstead, NH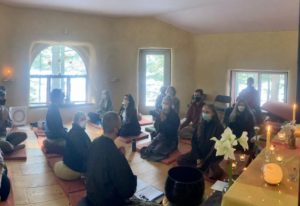 Dear Order of Interbeing Friends,
We hope that you are enjoying the changing of the seasons…
It is with great pleasure that we invite you to join us in a gathering of Order of Interbeing members at Morning Sun Mindfulness Center in Alstead, New Hampshire. This idea bloomed from a gathering of OI at the recent Cape Cod Sangha retreat. We were so nourished by being together that we wanted to continue and deepen our connection, and to include as many other New England area OI members as possible.
We are very fortunate to have the guidance of Dharma teachers Fern Dorresteyn and Michael Ciborski, with their perspective gained from years at Plum Village with Thich Nhat Hanh.
With a bow,
Theodate, Janey, Cindy and Patty
Logistics:
Arrival is Thursday afternoon (after lunch) with a formal check in at 4pm and program beginning with dinner. Departure is after lunch on Sunday. Retreatants who would like to stay over Sunday night and depart on Monday are welcome to stay overnight for a small donation to MorningSun.
The cost of the retreat depends on your accommodations and can be calculated by filling out the registration form below.  We have dormitory beds in The Barn, and when it fills we can place some overflow in resident homes.  You can also register as a commuter and stay in a hotel or airbnb in the area.   Please note that if you are staying offsite (airbnb) and registering as a commuter, your accommodations cost will not be included in your registration here, and must be completed with your host.
(This is a friendly Airbnb just a short drive from MorningSun: Solar Living Emerson Brook Forest in Gilsum NH)
Covid Health Precautions:
In the interest of everyone's health and safety, we request that participants do a Covid test (rapid is fine) in the 24 hours before attending the gathering. Covid tests will also be available at the gathering if needed.  MorningSun keeps air purifiers running in common spaces, and masking will be optional.  MorningSun will also send you a Covid Waiver to sign before attending the retreat.
Dear friends, we have nearly reached capacity for the Barn accommodations in MorningSun. Please email us at morningsunoffice@gmail.com for the waitlist! Thank you so much for your understanding.