Winter Solstice Weekend
December 17 @ 2:00 pm

-

December 18 @ 2:00 pm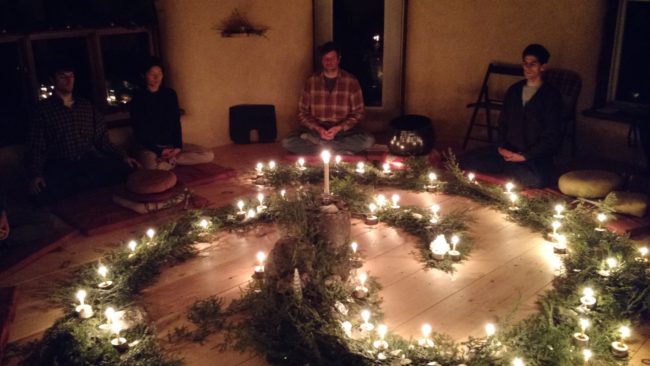 Winter Solstice Weekend
With quiet song and reverence, the room moves from complete darkness to radiant light as, one by one, each of us adds our candle to the evergreen spiral in the center of the room, placing a prayer of virtue and peace, an outer mirror of the inner light we generate together. 
Celebration of Light with Tea Meditation and Spiral Walk:
At the heart of the Solstice Weekend is the Celebration of Light with Tea Meditation and Spiral Walk which will be held early on Saturday evening: In a cozy meditation hall tucked in the forest we will gather to share tea, cookies, singing and stories from all traditions (you are welcome to bring a story, song or poem!) The celebration culminates with a spiral walk. 
For this special moment at Morning Sun, one can attend the whole Solstice Weekend (arrive Sat afternoon and stay through Sunday afternoon), or come just for Saturday evening and the Celebration of Light, or simply commute in for Sunday and the regular Day of Mindfulness program. 
Weekend Schedule: (may change slightly as time draws near)
Come for the Whole Weekend! Saturday 2pm-Sunday 2pm

  Arrive and settle in before the afternoon program: the Tea Meditation and Celebration of Light.  Please bring a vegetarian potluck dish to share for Saturday's dinner. Then wake for breakfast on Sunday before attending the Day of Mindfulness. Morning Sun will prepare your meals while you are here, with the exception of Saturday dinner (potluck) (accommodation and meal details are on the registration form).

Come for Saturday Celebration of Light Only – 3:30pm-6:00pm

  Please arrive a little early in order to settle in for the Solstice Celebration of Light with a Tea Meditation, Ceremony, and Spiral Walk.

Come for Sunday Only – 9:30-2:00

   This day of mindfulness is open for everyone. It will include sitting meditation, mindful movements, Dharma sharing circles, outdoor walking meditation, and vegetarian BYO bagged lunch.
---
COVID-19: Due to the pandemic, we will still uphold safety measures at MorningSun.  Face masks are optional. Indoor spaces will be ventilated with windows cracked open and an air purifier running, so if it is cold, please wear warm layers. There will not be much ability to practice physical distancing in indoor spaces because of the size of the halls, but there will be a couple areas to sit with further distance from others, so we welcome you to come if this feels okay for you. The outhouses and indoor restrooms will be available. Please bring a mask to wear if you would like. Please respect the needs and practices of those who wish to wear masks or have physical distance. We also require a signed Covid Waiver prior to attending the program (via email after you register). Thank you so much for your presence and care.
---
Accommodations: We have several rooms available in "The Barn" (beds for 8-14 people depending on whether folks are alone, or couples, or in a 'pod')  Our campground is not open in the colder months (November-March).   You may also choose to commute in and out if you live locally, or book a Bed and Breakfast or hotel nearby and commute (you must have your own car for this option).
---
Retreat Conduct: There will be periods of silence and periods to enjoy conversations with others. To create a gentle and quiet retreat atmosphere, we practice with the Five Mindfulness Trainings. Meals will be vegetarian, and we do not drink alcohol, ingest intoxicants or any recreational drugs. Firearms and other weapons are not permitted in the Mindfulness Center.
Related Events