Winter Solstice Online Celebration of Light
December 20, 2020 @ 1:00 pm

-

4:30 pm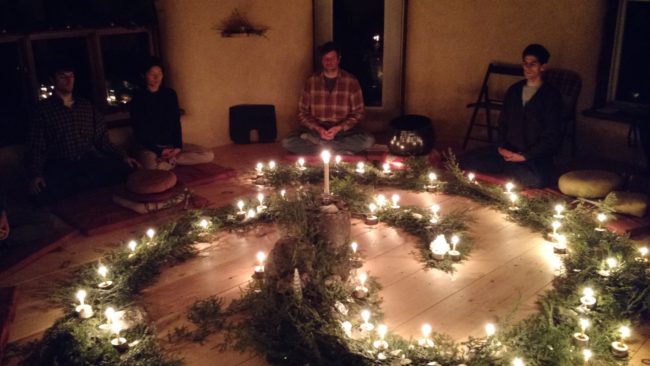 Online Day of Mindfulness, A Solstice Celebration of Light
Dear friends on the path,
We are so happy to be able to celebrate this season together. Our practices during the day will invite us to find space and warmth inside ourselves, to touch the healing and deep quiet of this time of year, and to feel the light of our love and compassion.
Tea Meditation and Sharing:
At the end of the afternoon we will have a tea meditation where we can enjoy mindfully drinking our tea and listening to offerings from our online community.
The offering could be a poem, song, musical piece or short story with the theme of the season of light and the winter Solstice.  You can also share a meaningful or joyful personal story from the winter/holiday season, recently or reaching back into childhood memories.
Please let us know via email ahead of time if you would like to share. Since our time is limited it is possible the spaces may fill up. We will let you know if this time becomes full. Please plan to keep your sharing to 2 minutes or less.
Meditation and Candle Lighting Ceremony:
The day will end with a guided meditation and candle lighting ceremony. We will meditate on the Solstice, being embraced by the quiet dark and awakening our inner light of compassion. Then, with music and silent prayers, we will each light our own candle in our home.
Schedule:
1:00 pm: Welcome to the Sangha
1:15 pm: Guided Opening Meditation
1:30 pm: Dharma Talk by Fern and Michael
2:30 pm: Break / Mindful Movements
2:45 pm: Deep Relaxation
3:15 pm: Tea Meditation and Seasonal Sharings
4:10 pm: Guided Solstice Meditation and Candle Lighting Ceremony
4:30 pm: Closing
This is an online zoom event, and after you register you will be sent a confirmation and zoom link, closer to the event.
Please Register Below:
Related Events