New England Regional Retreat – Touching the Reality of Interbeing and Non-Fear
October 25, 2018 @ 12:30 pm

-

October 28, 2018 @ 11:00 am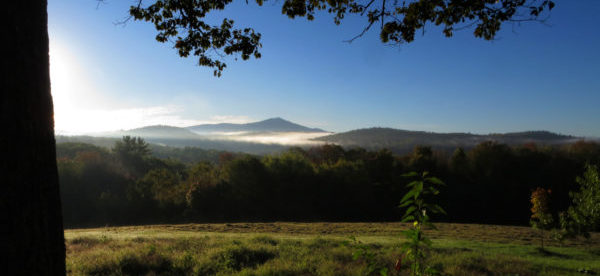 We're happy to announce the fifth New England Regional Retreat October 25-28, 2018!
It will be held at the Hulbert Outdoor Center in Fairlee, Vermont.
New and experienced mindfulness practitioners are welcome. Coming together as a regional community is a beautiful opportunity to energize our practice of mindfulness, deepen our understanding of transformational teachings, meet new people and reconnect with old friends. As noted below, thanks to the generosity of the Thich Nhat Hanh Foundation there are scholarships available.
Much of our time together will be in Noble Silence. However, there is also time created for sharing mindfully in conversation.
This year we will be working with the theme:
"Touching the Reality of Interbeing and Non-Fear."
This retreat is a collectively organized by regional Sanghas in order to build our regional community. Three Dharma teachers in the tradition of Thich Nhat Hanh, Michael Ciborski, Fern Dorrensteyn and Richard Brady will be leading the retreat. They offer this description of the retreat's theme:
"Non-fear is the fruit of slowly ripening understanding. As we stop, calm, and look deeply exploring our true nature of impermanence and interbeing, we grow stable and free.
 During our time together, as we practice sitting, walking, eating meditation and mindful dialogue, we will deepen our capacity for letting go of obstacles and misperceptions, celebrating moments fully and deeply lived in the present moment."
Michael and Fern are former Plum Village Monastics and founders of Morning Sun Mindfulness Community in Alstead New Hampshire. Richard Brady is the founder of the Mindfulness in Education Network.
The Hulbert Outdoor Center, located on Lake Morey and surrounded by woodlands will be a beautiful Fall foliage venue for our retreat. There are six four-room heated cabins, a dormitory, and camping sites to choose from. The Center will offer a vegan menu.
The all inclusive sliding scale costs for the retreat, which includes meals from Thursday evening through Sunday lunch, range from $175-$250 for dormitory lodging, camping or commuting to $350-$400 for double rooms. Thanks to the generosity of the Thich Nhat Hanh Foundation there are scholarships available. Please note that Dana for the Dharma teachers is not included in the fees.
Click here to download a registration form. Please print out and complete the registration form and mail it to the Hulbert Outdoor Center (address on registration). Please note that you if you are using a credit card you can register online by sending a handwritten completed registration form as an attachment to an email or by using "Adobe Sign". The email address for the Hulbert Registrar is Lynn_daly@alohafoundation.org. There is the option to pay for linens and towels on the registration, but otherwise, please bring your own sleeping bag, pillow and towels. Refrigeration is provided for those with special dietary needs they will need to bring with them.
Questions? Email us here at this link.
Related Events