Winter Solstice Celebration of Light
December 15 @ 7:00 pm

-

December 17 @ 4:00 pm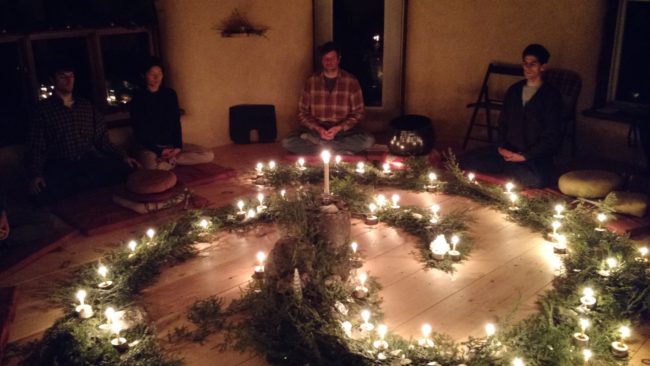 Dear friends on the path,
We are so happy to be able to celebrate this season together. Our practices throughout the weekend will invite us to find space and warmth inside ourselves, to touch the healing and deep quiet of this time of year, and to feel the light of our love and compassion.
The heart of the weekend is a Celebration of Light on Saturday afternoon – 3:30-6pm.
It will include a Tea Meditation and Offering (a tea meditation in which we enjoy mindfully drinking our tea and listening to offerings from the community)  The offering could be a poem, song, musical piece or short story with the theme of the season of inner light, the Winter Solstice.  You can also share a meaningful or joyful personal story from the winter/holiday season, recently or reaching back into childhood memories.
The Celebration will culminate with a Spiral Walk and Candle Lighting Ceremony. We will meditate on the Solstice, being embraced by the quiet dark and awakening our inner light of compassion. Then, with music and silent prayers, we will each walk the spiral, light our candle and place it as an offering in the spiral.
You can attend the Celebration of Light on Saturday, OR come only for the Day of Mindfulness on Sunday, OR come for the whole weekend, (arriving Friday evening and helping to prepare for the Celebration during the day an Saturday as well as attending the practice on Sunday).
---
(Scroll Down to Register)
---
We have set up a registration form that allows for attending all or part of the weekend program:
Solstice Weekend – Friday 7pm-Sunday 2pm  Early arrival on Friday evening after dinner through to the end of the Day of Mindfulness of Sunday.  On Saturday, the morning will have a light schedule of meditation and relaxation, a BYO bagged lunch, and then some simple working meditation to prepare for the evening Solstice Celebration. Dinner will be provided after the Celebration for those staying overnight. Then wake for breakfast on Sunday before attending the Day of Mindfulness. Please note that Morning Sun will prepare your meals while you are here, with the exception of Saturday lunch (bagged vegetarian BYO) (more accommodation and meal details are on the registration form).
Celebration of Light – Saturday 3:30-6:00  We will gather in the meditation hall to share tea, cookies, singing and stories from all traditions (you are welcome to bring a story, song or poem!) culminating with a winter spiral walk. With quiet song and reverence, the room moves from complete darkness to radiant light as, one by one, each of us (adults and children) adds our candle to the evergreen spiral in the center of the room, placing a prayer of virtue and peace.
Day of Mindfulness – Sunday 9:30-2:00  This day of mindfulness is open for everyone. It will include sitting meditations, a Dharma sharing circle, outdoor walking meditation, and vegetarian BYO bagged lunch (if you are staying overnight from Saturday your lunch is included in your program and will be prepared by MorningSun).
---
---
Accommodations: Depending on the time of year we have several types of accommodations.
We have several rooms available in El Cielo (formerly "The Barn") (beds for 10-14 people depending on whether folks are alone, or couples, or in a 'pod').
You may also choose to commute in and out if you live locally (or book a hotel/airbnb).
---
Retreat Conduct: There will be periods of silence and periods to enjoy conversations with others. To create a gentle and quiet retreat atmosphere, we practice with the Five Mindfulness Trainings. Meals will be plant-based (vegetarian), and we do not drink alcohol, ingest intoxicants or any recreational drugs. Firearms and other weapons are not permitted in the Mindfulness Center. In order for everyone to feel respected and safe during their retreat MorningSun will not support or tolerate any act of bullying, discrimination, sexual harassment or assault. On arrival each participant must affirm these practices by signing a commitment to maintain retreat conduct.
---
---
---
---
Related Events