Spring 2017 will bring our first "Mindful Living and Service" Program
The Mindful Living and Service Program is an opportunity for people to deepen their practice and be of service, helping to staff our retreats and work on building the practice center and gardens at MorningSun.  The first program will run for 3 months, May-July 2017.
As details of this new program take shape through the Winter, they will be shared on our website.  If you are interested in supporting or participating in the Mindful Living and Service program please visit the website and fill out a contact form.
The gardens are a wonderful place for both the gardeners and guests to cultivate their connection and care for our Earth.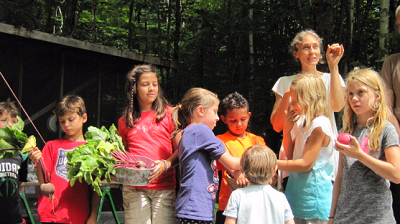 Last summer children attending the All Ages Summer Retreat found themselves with hands and feet deep in the dirt, looking for hidden potato treasures, munching on green beans and reveling in the red color of the beets.
The children truly came to life as they worked in the garden!