Practice offered by our resident community in our region, country and internationally
In addition to the regular classes and retreats around the region and country, residents have been part of several interesting new initiatives; helping monastics to organize an Appalachian trail hiking retreat, volunteering at the local prison, starting a Sangha at Keene State College, and supporting retreats at Blue Cliff Monastery in NY and Rose Apple Society in VT.
In reaching out internationally, our residents have been supporting Spanish speaking practitioners with the monthly online Five Mindfulness Trainings recitation, with participants from many countries.

---
Life, Liberty and the Path of Happiness: Healing Steps on the Appalachian Trail
Contributed by Aurora Leon
Joaquin and I joined the planning team for a hiking retreat in the Appalachian trail this past April. We started from our beloved Blue Cliff Monastery on April 8th 2018 and finished with a peace walk in Washington D.C.The aspiration for the retreat was to create a mobile monastery, while connecting deeply to the healing energy of nature through our mindful steps and also to share our practice energy through days of mindfulness and local sanghas throughout the region. https://pathofhappiness.org/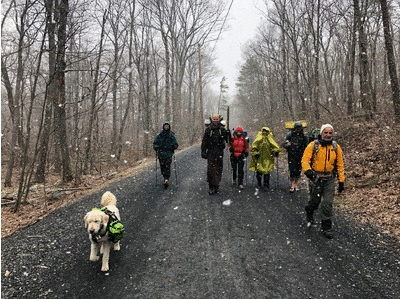 We explored maybe how the Buddha traveled with his Sangha through the forest. We shared noble silence, mindful meals, sitting meditation with the forest and all beings. Every week we explored the Noble Eightfold path as an anchor for our practice.During our pilgrimage we were able to reconnect with our own selves, with nature, with being cold, wet, hungry and touch life in a simple and yet profound way. Wwe were able appreciate how life is so precious through the eyes of fellow travelers. Finding happiness very literally in each step. Check out the small video: https://vimeo.com/274130648

---
Sanghabuilding in Europe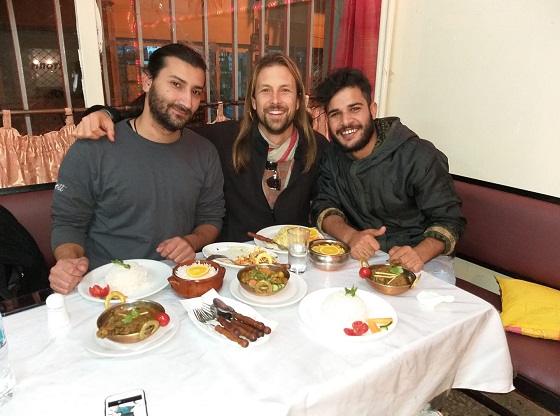 David Viafora spent almost 3 months in Europe for more Sanghabuilding adventures. He partnered with different Wake Up friends to offer a family retreat in London (with an awesome teen program), a few Wake Up retreats in the Netherlands and Ireland, and a 5 day New Years retreat which combined Wake Up with the All-Ages Sanghas in London. David also spent a month in Greece building beautiful friendships with migrants from Syria, Afghanistan, and Pakistan, who are seeking asylum in Greece. This culminated in a 4 day retreat for international volunteers, Greek residents, and migrant friends.
"What we learned in London was how to offer retreats with the playfulness, creativity, and overwhelming joy of Wake Up, combined with the seasoned stability, silent power, and depth found in all age Sanghas. When Wake Up and seasoned practitioners collide, it's more fun and the practice is stronger!" ~ David Viafora
---
Morning Sun Residents Organize Retreats at Blue Cliff Monastery and Rose Apple Society
Long-term residents Albert Karcher, Vanessa Loucky and David Viafora helped co-organize and facilitate two retreats outside of Morning Sun: the *first ever* North American Wake Up Ambassador Retreat at Blue Cliff Monastery in New York, and 'Healing from Internalized White Oppression' at Rose Apple Society in Vermont. Both retreats were rich opportunities for deep looking, personal and collective reflection, and tapping into foundational mindfulness practices to begin to heal these critical and tender issues. Topics included white privilege and dominance, racial justice and inclusivity in the Sangha, and sexual harassment.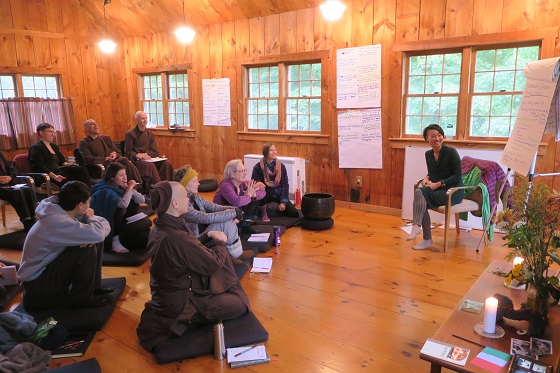 Continued reflection and discussion on these topics are of central importance to Morning Sun, with much work still to be done ahead.

Click here for information on Morning Sun's 2019 Programs