*NEW* Educators Retreat!
Great News! From June 26-30, 2019 Dharma Teachers Valerie Brown, Richard Brady, and Fern Dorresteyn have agreed to co-teach an Educators Retreat at Morning Sun! Join these longtime educators and amazing Teachers from the tradition of Zen Master Thich Nhat Hanh for this special retreat that brings together teachers, administrators, social workers and others in the field of education. This retreat is a Wake Up Schools Level I retreat. (For more information on Wake Up Schools, visit wakeupschools.org.)
Registration for the Educators Retreat is open on our Calendar of Events
---
Mindful Living and Service Program
June 1 to August 1 2019 The Mindful Living and Service Program (MLS) is an invitation for friends to:
offer energy into creating a source of peace and healing in our world through working to build Morning Sun Mindfulness Center
to grow their practice of mindfulness and meditation, and
to practice living in community and simplicity with the other MLS participants.
Touching the Earth Wake Up Retreat
July 10 to July 14 2019 We will be sharing daily meditation, yoga, mindful meals, listening to teachings, hikes in the forest, and discussions, as well as swimming, music-filled bonfires, starry nights, and canoeing – surrounded by 240 beautiful acres of MorningSun.
Treasure of Life All Ages Retreat
July 24 to July 28 2019 Held in a peaceful and joyous community atmosphere, we will share meditation, mindful meals, group discussions, walking meditations in the forest and listening to teachings on mindfulness in the Plum Village tradition. Together we will explore how to to bring mindfulness practice into our daily lives.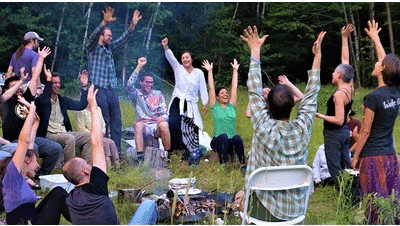 Ongoing programs:
Weekly Days of Mindfulness
We have sitting meditation, practice guidance and discussion, outdoor walking meditation, and a vegetarian potluck meal. $10-20 suggested donation. <LEARN MORE>
Monthly Order of Interbeing Days
A day of practice to support the Community of Interbeing. We offer these special moments for nourishment and connecting of the Order of Interbeing. <LEARN MORE>

*NEW* Monthly Days of Meditation and Reflection
Held mainly in silence, with time for inner reflection and meditation. We have several sitting sessions, listen to a recorded Dharma talk by Thich Nhat Hanh, practice yoga and step outdoors for walking meditation. $20-40 suggested donation. <LEARN MORE>
---
Click here for information on Morning Sun's 2019 Programs